This Week's Vegetable Harvest:
Green-Top Beets
Eggplant
Head Lettuce
Heirloom Tomatoes
Beefsteak Tomatoes
Leeks
Garlic Bulb
Curly Parsley
Mixed Baby Salad Greens
This Week's Fruit Harvest:
Gala Apples
Anjou Pears
'Jupiter' Grapes
'Fredonia' Grapes
Mini Cantaloupe
CSA Potluck on September 9th--There's Still Time to RSVP
When: Sunday, September 9th, 3 to 6 p.m.
Where: 32140 Harris Road in Grayslake. Feel free to call Peg's cell (847-406-9301) if you have any trouble with directions.
Schedule:
3-4 p.m. Pick your own tomatoes. CSA members may pick up to 10 pounds of free tomatoes (heirlooms, hybrids or cherry tomatoes) per family. If you would like more than that, please see the information below about ordering pre-picked cases.

4-5 p.m. Potluck. Please bring a main dish or a vegetable salad to pass, as well as your own plates and utensils. You might also want to bring lawn chairs or a blanket to sit on. We will provide cookies, lemonade and water.

5-6 p.m. Walking tour of the farm
Other Announcements & Reminders
The final week of the Fresh Fruit Season is September 19th/20th.
We are running low on cardboard fruit boxes. Please remember to bring back your empty fruit boxes so that we may reuse them. This is a big help to us. Thank you!
Interested in freezing or canning tomatoes? We have 20-lb cases available at a discounted price for CSA members. Please contact us if you would like a case or two of tomatoes delivered to your pickup site next week. Beefsteaks are $25/case for members and paste tomatoes are $32.
Notes from the Farm Kitchen
Well, I finally got the
eggplant
crop I've been dreaming of, and it's only been ten years in the making! This is a crop that has historically proven to be a great source of frustration for us. In the past the plants never seemed to grow taller than knee-high, and yields were always modest at best. This year we moved eggplant production to the Brodhead farm, and, oh my, what a difference! The plants are chest-high and still growing vigorously. We're just at the beginning of at least 6 weeks of heavy harvest. So dust off your baba ganoush recipes because you're going to need them!
Heirloom tomatoes
are just hitting their stride as well. So far you've received lots of beefsteaks and a smattering of smaller heirlooms. Starting this week we'll be able to start distributing more of those nice big brandywines, cherokee purples, and other large and delightfully funny-looking heirlooms.
The mix of baby Asian greens in your share includes (from left) tat soi, red mustard, green mustard and arugula. These greens will add a peppery kick to your salads this week. In order to preserve their shelf life, we do not wash them at the farm, so you will need to wash them at home.
The kids will start back to school next week and
pomme fruits
(apples and pears) have made their annual debut in the fruit share. It's time for me to face the fact that summer is winding down.(Although you wouldn't know it to look at the forecast for Thursday and Friday!)
Concord grapes
are another one of my fall favorites. This week's variety is called Fredonia and it does have seeds. Fredonias and other concord types are considered slipskin grapes because the skin slips easily from the pulp. The skins can be eaten or discarded. Either way, you will love the intense flavor of this grape.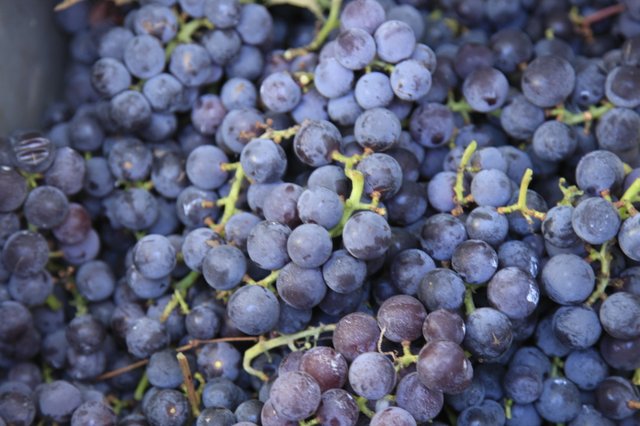 Mick has tried growing couple of new fruit crops this year, including these softball-sized mini cantaloupes. They have a small seed cavity and a relatively thin skin, and they're packed with flavor. They are the perfect size for taking along on a picnic or even to the office for a healthy mid-day snack!
This Week's Recipes
Garlicky Roasted Beets, Leeks and Eggplant
from sarahscucinabella.com
2 leeks, halved, washed well and cut into 2″ chunks
1 bunch beets, washed and cut into 1″ chunks
1 eggplant, cut into 1″ chunks
6 cloves garlic, peeled and crushed
2 tablespoons olive oil
sea salt and pepper to taste
chopped parsley for garnish
Preheat oven to 400 degrees.
Line a baking sheet with nonstick aluminum foil (or heavy duty aluminum foil sprayed with cooking oil spray)
Combine the leeks, beets, eggplant and garlic on the baking sheet. Drizzle with olive oil and sprinkle with salt and pepper. Stir well.
Bake for 25 minutes. Then, remove from the oven and stir well. Return to the oven and cook for an additional 10 minutes.
Transfer to a bowl, garnish with fresh parsley and serve immediately.
Leek and Feta Tart with Beet Greens
Serve this delicious tart with a Greek salad composed of chopped tomatoes, olives, red wine vinegar, a handful of spicy Asian greens and lots of chopped fresh parsley.
1 leek, sliced thinly
2 cups cooked beet greens, excess water pressed out
1 egg, beaten
1 sheet puff pastry
3/4 cup crumbled feta
Preheat an oven to 350 degrees and line a baking tray with parchment paper.
Spray a non-stick pan with cooking oil and saute the leek until it has softened.
Remove from the stove and mix in the beet greens and beaten egg.
Score a line on the pastry with a knife about a half inch around the edge of the pastry and place the leek mixture within that mark. Sprinkle with crumbled feta.
Bake for approx 15-20 minutes or until pastry has browned.
Next Week's Harvest (our best guess)...
raspberries, melons, lettuce, carrots, shallots, red peppers, tomatoes, swiss chard, sweet corn and more!